Welcome to Kokusai Nursery!
About Us
Kokusai Nursery Co., Ltd. is one of the oldest retail orchid nurseries in Japan and was founded in 1956. We have been providing orchid species and hybrids of high quality to hobby growers and collectors in Japan and also worldwide. We have also participated in numbers of orchid shows and events around Japan, looking forward to seeing more and more orchids enthusiasts from all over the world.
Catalogs
Check our latest catalogs and lists here! Annually-issued catalogs cover most of our collections of orchid species and hybrids whose supply may last till the next issue (sometimes not!), while seasonal lists features newly imported items, spiking plants, rare items, and other seasonal items.
Unfortunately explanations are available only in Japanese, but we do accept orders from overseas. Please ask if you have any questions.
*The consumption tax rate has been raised to 10% since Oct. 2019. Prices now may differ from those on the catalogs and lists issued before Sept. 2019.

International Orders
Most of the orchids we grow and sell can be shipped internationally with CITES and phytosanitary certificate. As long as all the restrictions allow, we are happy to ship our plants to you. The document cost for CITES and phytosanitary certificate is 15,000JPY to 25,000JPY depending on what's needed to pass the inspection. We use EMS. Volume discounts may apply. We accept most of the major credit cards and PayPal (4% PayPal charge will be added). We exported out plants to the United States and Korea recently.

CITES: All orchids must be accompanied with CITES when shipped internationally. Getting a CITES permit usually takes one or two weeks.

Phytosanitary certificate: It is often the case with phytosanitary inspection, import permits issued by importer's local government are required. This has to be done by you. A regular export inspection takes only a few hours, but some countries even require field inspection, which takes more than a few months. Contact me if you are not sure about your country's requirement.

Document cost: We charge 15,000JPY to 25,000JPY depending on what is needed.

Shipping: We use EMS. FedEx and UPS won't accept plants in Japan. Shipping cost varies depending on weight.
Visit Our Nursery
The nursery is located in Isehara city about hour and a half away from central Tokyo, open to the public from 09:00 to 17:00 and closed on Wednesday. We always welcome your visit, but be sure to contact us in advance to see if English speaking staff is available upon your visit if you wish for assistance. In addition to our wide selection of orchids, beautiful Sakura trees welcome you in full bloom in spring!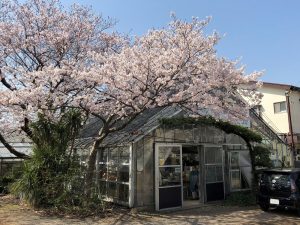 SNS
Find us on Facebook, Twitter, and Instagram! (the links are in the header section.) We are looking forward to sharing pictures and stories with you! Your comments are welcomed!
Contact Us
We are planning to add more contents in English, but what is available in English now is still very limited. Contacting via email is always advisable. Any questions are welcomed!